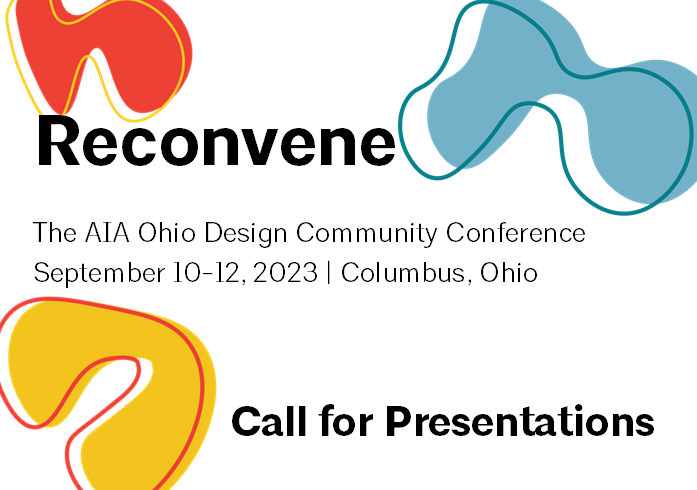 The AIA Ohio Design Community Conference is a unique way for architects, planners, and design enthusiasts to gather, learn, and discuss critical issues related to design, architectural resilience, business, and industry innovations. 
Planned for September 10-12 in Columbus, the AIA Ohio Design Community Conference will bring together more than 200 members of the design community from across Ohio for three days of tours, keynote speakers, educational programming, and other activities right in the heart of downtown. The conference will be walkable with conference events located in different parts of the city.  Programming is intended to appeal to a broad range of AIA Ohio's membership and allied professionals.
The Call for Presentations is open!  This Call for Presentations is a way for AIA Ohio to curate programs that are relevant, fresh, and innovative. This call also provides members and non-members alike the opportunity to share the groundbreaking and practical ways you are addressing concerns that are relevant to architects and other design professionals from across the region.
Themes
While specific educational tracks will not be established, AIA Ohio Design Community Conference programs will include a connection to one or more of the following:
Equitable systems
Business intelligence and best practices
Industry innovations
Residential design
Disruptive technologies
Design justice and resilience
Community
Placemaking and civic engagement
Smart cities/urban design
Culture
Historic Use
Submissions
Individuals, teams, or firms may submit as many programs as they wish. The committee reserves the right to select those most appropriate for the conference. The committee also reserves the right to limit the number of programs selected from any individual, team or firm. The decision of the committee is final.
Presenter Benefits
In recognition of the time and talent it takes to produce a quality educational program, all presenters will receive a 50% discount when registering for the Conference.
Submission Date
All presentations shall be submitted by the end of business (5:00 p.m., ET) on June 2, 2023.
Timeline
April 10, 2023 – Call for presentations opens

June 2, 2023

– Submission Deadline (By Close of Business)
June 5-16, 2023 – Selection and Notification of Applicants
September 10-12, 2023 – AIA Ohio Design Community Conference