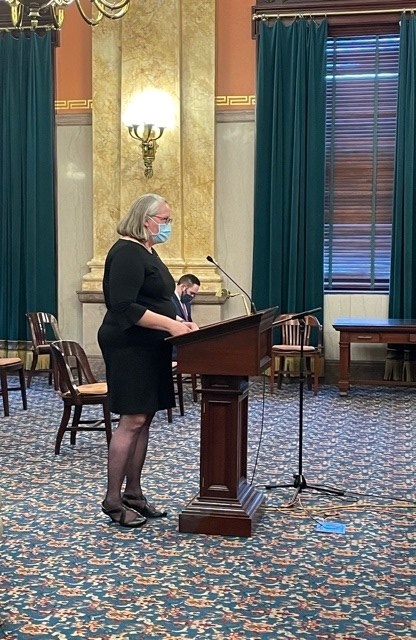 Proponent testimony for SB49 (Payment Assurance Legislation) was presented on March 2 by AIA Ohio President Karen Planet, AIA and Bruce Sekanick, FAIA.
Planet said the bill will establish "a much-needed payment assurance program for design professionals including architects, landscape architects, engineers, and surveyors."
"Design professionals currently have limited options when a commercial property owner does not pay for plans or specifications," she said. "It is inequitable when an owner goes forward with construction without compensating architects for their design work. Unlike construction contractors, the work of design professional does not improve the physical real estate, and therefore a design professional cannot file a mechanics' lien. Ohio is the only state that offers no alternative payment projection for design professionals."
Sekanick, who owns an architectural firm in Warren, said the bill provides architects and construction industry design professionals with an important tool to ensure payment for professional services. Upon questioning, he told Sen. Antani that there are variations of the provisions in the bill all 49 other states.
Additional written proponent testimony was submitted by Paula Hammer of the Professional Land Surveyors of Ohio; Beth Easterday on behalf of ACEC-Ohio and Doug Boyer on behalf of the Ohio Chapter of the American Society of Landscape Architects.