AIA OVR Practice Innovation Lab | 2019
Congratulations to Team SNDBX, winner of the People's Choice Award!

The AIA Ohio Valley Region held a Practice Innovation Lab in conjunction with the AIA Ohio Valley Region Convention in Cincinnati on September 19.  Over 25 individuals participated in the event which was generously hosted by BHDP Architecture.  Four teams were created and they spent the day envisioning the future of the practice of architecture.  Their work was presented on Friday, Sept. 20, as the keynote presentation at the AIA Ohio Valley Region Convention. 
The Practice Innovation Lab was sponsored by the AIA Ohio Valley Region, and funded with generous contributions from Victor O. Schinnerer & Company, Inc., the CNA Insurance Companies, and The AIA Trust, providers of the AIA Trust Professional Liability Insurance Program and the AIA College of Fellows.
ABOUT | AIA OVR PIL
The AIA Ohio Valley Region Practice Innovation Lab is an event where teams comprised of students, associates, architects, Fellows, and other seasoned professionals come together to answer one simple question:  With so much of the world in flux, through changes to climate, technologies, and construction techniques, how will architects adapt ways of practicing that will advance the profession?
Originally envisioned as a multi-day event, we are consolidating this to a single day workshop, in conjunction with the AIA Ohio Valley Region Convention, in an effort to allow more individuals the opportunity to participate.
The PIL will consist of teams of 5-7 individuals of any member category from each component in the OVR. You can register as an individual, or you can register a team (up to six people).
On September 19th, teams will convene in Cincinnati for a full day workshop to develop concepts into presentations. On Friday, Sept. 20, teams will present their vision at the Ohio Valley Region Convention Keynote session. Convention attendees will select a People's Choice award and prizes will be given.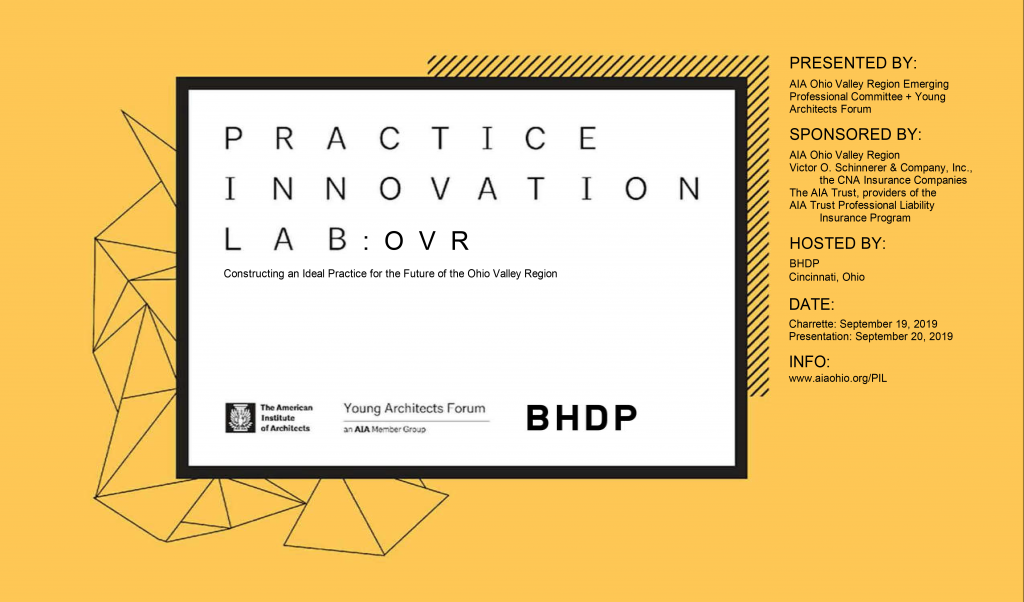 TIMELINE
Registration Deadline
August 23, 2019
Charrette
September 19, 2019
Presentation
September 20, 2019
PRESENTED BY:
AIA Ohio Valley Region Emerging Professional Committee + Young Architects Forum
SPONSORED BY:
AIA Ohio Valley Region
Victor O. Schinnerer & Company, Inc., the CNA Insurance Companies
The AIA Trust, providers of the AIA Trust Professional Liability Insurance Program
HOSTED BY:
BHDP | Cincinnati, Ohio