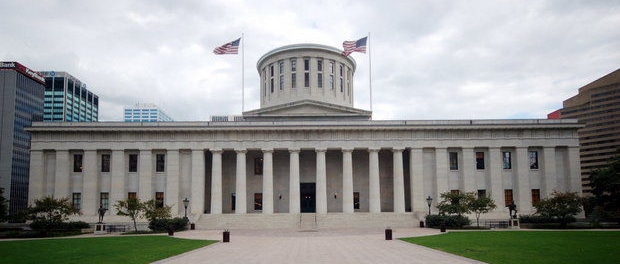 August 2020 AIA Ohio Government Affairs Update
The Ohio General Assembly left for home to campaign for re-election on July 1, 2020. They are scheduled to return in September briefly, and then again after the November elections. Typically, only must-pass legislative issues or bills which have made it through both chambers is considered that late in the session. After members introduced over 1,000 bills, the legislature only passed 40.
House Bill 6 Indictments
Former Speaker Larry Householder (R, Glenford), four lobbyists, and a "dark money" non-profit company were indicted by a federal grand jury for bribery and conspiracy for laundering utility company cash for political support. The lobbyists worked for First Energy headquartered in Akron, owner of a subsidiary First Energy Solutions which owns the nuclear power plants in Maumee and Cleveland.
Given recent alternative energy competition, particularly cheaper natural gas traded in an unregulated market, the nuclear power plants were not competitive and requiring major overhauls. After several legislative failures, in July, 2019, the General Assembly passed HB 6 to provide $1.3 billion in customer ratepayer subsidies.
The indictment alleges that Householder and the lobbyists created a non-profit corporation which did no charitable work, but received $60 million in utility company cash. Then, the lobbyists allegedly at Householder's direction paid out the cash for local advertisement in support of Householder's preferred candidates for State Representative, to elect Householder as Speaker.
In addition to campaign advertisement, the non-profit corporation also allegedly contributed to legislative political campaigns, which First Energy could not do directly as a for-profit corporation. Governor DeWine announced that he would donate any such cash received by his campaign to a charitable organization.
Finally, the indictment alleges that Householder and the lobbyists personally received cash from the pool, underlying the charges of bribery.
First Energy, the utility company which allegedly paid the monies, was not indicted.
The U.S. Attorney continues to investigate further use of the funds. Potential targets are other legislators, other lobbyists, or corporate employees.
The House unanimously stripped Representative Householder of the Speaker's chair, electing Representative Bob Cupp (R, Lima) in his place. Cupp will serve until the end of 2020, and seek re-election as Speaker when the House newly convenes in January, 2021. Bob Cupp grew up working on his family's farm in rural Allen County. A graduate of Columbus Grove Local schools, he earned his political science and law degrees from Ohio Northern University.
Payment Assurance Legislation (PAL)
As with other legislation, Senate Bill 136, the Payment Assurance Legislation for Architects, Landscape Architects, Engineers, and Surveyors, ended for lack of a committee vote to send it to the Senate Floor and then the House for consideration.
As we are aware of no opposition or concern, certainly we made progress for re-introduction in January, 2021.
Interior Design Registration Legislation:
Not having passed out of any committee, Interior Design legislation is likely dead for the remainder of this year.
Representative George Lang (R, West Chester) introduced House Bill 402, to create an optional Certificate for Interior Designers. Unlike prior versions, this legislation proposed an exception to the Architect's Seal Law for blueprints submitted to obtain a Building Permit. The bill defined "interior design" and "construction projects" to include certification of designs involving the commercial building and fire codes, for which interior designers are not trained nor tested.
Unlike prior bills, we successfully received opposition from the Ohio Building Officials Association, the Ohio Fire Chiefs Association, and the Ohio Mayor's Alliance.