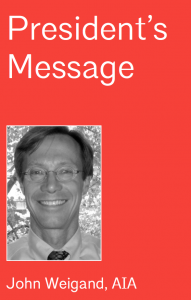 Participation on the AIA Ohio Board provides a unique opportunity to connect with architects in leadership positions across the country. Most recently, the AIA Grassroots event in San Diego provided such a platform to listen to, and share ideas with, architects who are making a difference in their cities by helping to guide social, environmental, and economic policy. A clear theme was the need for architects to "find a seat at the local table" as a way of exerting influence. As design thinkers, we are well equipped to help solve these types of complex civic problems; we just need to make it happen. In Ohio, we should all think about how we might personally join these conversations, or how we might better encourage our staffs to do so. In the words of Grassroots speaker and former California mayor Liz Gibbons, AIA, "if you aren't at the table, you're on the table."
In Ohio, we're taking our Board meetings on the road this year. In March, we met at Bowling Green's new facility for the Department of Architecture & Environmental Design. AIAS Presidents from Ohio's five Schools of Architecture joined the meeting and discussed what's happening at their respective school, how millennial architects see their futures, and the role AIA Ohio might play to better connect with this group. A priority for our future architects–something I hear over and over and that was the topic of an Emerging Professionals event in Cincinnati just recently–is the desire to make a difference in the world, to practice an architecture that is relevant. All of which bodes well for our professional future. Following the meeting, the Board spoke with BGSU Architecture students on these same topics – offering a lively and hopefully valuable session. A big thanks to BGSU for hosting, and to the AIAS student leaders from around the state for taking the time to join us.
In May, NBBJ hosted our Board meeting in Columbus. By moving our meetings out into the architectural community, this should not only provide an opportunity to learn more about our Ohio firms but also make the activities of our Board more visible. A focus for our May meeting was how we promote architects and architecture to our membership but also to the public. Newly retained consultant MJ2 Marketing attended and engaged the Board in discussions about how we might improve our PR/marketing efforts, and how we might better align these efforts at local, state, and national levels. Stay tuned!
John Weigand, AIA