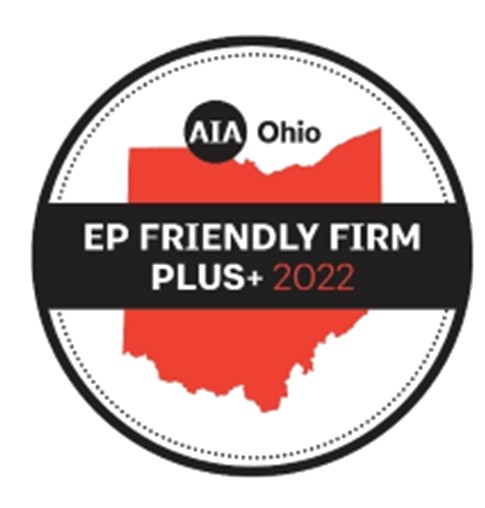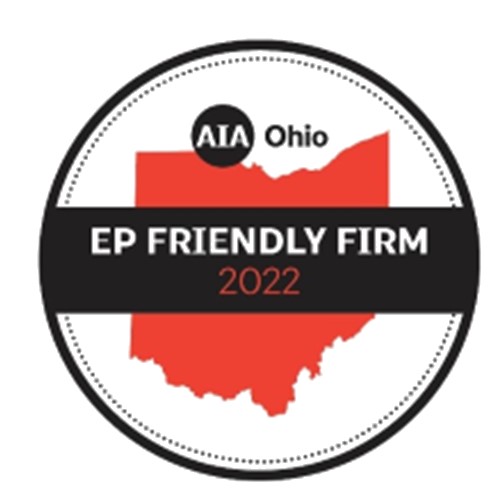 Congratulations to Ohio's Early Professional Friendly Firms!
In 2022, AIA Ohio announced the newly created Early Professional Friendly Firm Program. The goal of this program is to celebrate firms who offer exceptional support and opportunities for their early professionals. Additionally, the program seeks to foster a dialogue within firms across the state with the objective of creating new policies and practices that promote innovation, development, and progressive workplaces for the future members of the design profession.
An early professional is defined as someone who is part of the architectural staff and fills one of the following roles: architectural students, recent graduates, unlicensed emerging professionals within 10 years of graduation, or architects licensed within the last 10 years.
There are two designations possible for a firm to receive. The Early Professional Firm Friendly Designation and the Early Professional Firm Friendly Plus+ Designation.
EP Firm Friendly Designation is earned by receiving a passing score of 70% (75 points) or above on the EP Firm Friendly questionnaire

EP Firm Friendly Plus+ Designation is earned by receiving a score of 80% (86 points) or above
AIA Ohio is pleased to announce that the following firms earned the Early Professional Friendly Firm Plus+ Designation in 2022: Listed first below are the three firms receiving the top three scores, who are deserving of special recognition:
1st Place:  Phillips Sekanick Architects, inc |PSA Architecture
2nd Place:  Robert Maschke Architects Inc.
3rd Place:  studioTECHNEarchitects
AIA Ohio EPFF Plus+ Firms:
DNK
DS Architecture, LLC
JBAD
MODA4 Design
Moody Nolan
Richard L. Bowen + Associates, Inc.
RWA Architects, Inc.
TC Architects
ThenDesign Architecture
Thomas Porter Architects
WSA Studio
Additionally, AIA Ohio is pleased to announce that the following firms have earned the Early Professional Friendly Firm Designation:
App Architecture, Inc.
Bialosky Cleveland
Bostwick Design Partnership
CBLH Design, Inc.
GBBN Architects, Inc
Hiti, DiFrancesco and Siebold, Inc.
Levin Porter Architects
Makovich & Pusti Architects, Inc.
Perspectus Architecture
These EP Friendly Firm designations are a one-year designation, with the option to renew the designation annually. Firms are expected to maintain the policies and practices they have implemented at the time of submission throughout the designation period. Applications for the EP Friendly Firm program will be accepted annually, from February 1 to March 15.